Chestnut Grove Cemetery - Ashtabula Train Disaster of 1896
On Saturday, March 21, 2015, we traveled to Ashtabula, Ohio to the Chestnut Grove Cemetery in order to perform some research and a small investigation. The reason for selecting this locations, there is a mass burial located here of the victims of the Ashtabula Train Disaster.
Read the Full Blog Post
---
Our Haunted Travels Blog Post
Type: Blog Post
Museum Item#: 1692
Related PANICd#: 1344
Archived/Storage Location: OurHauntedTravels.com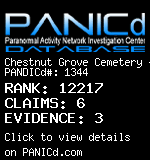 Views: 1,062
No related videos cataloged.