Lake View Cemetery - Cleveland, Ohio
On April 3, 2015, we traveled to Lake View Cemetery in Cleveland, Ohio. This location has been on the list for some time, and the visit was well worth it for our research.
Read the Full Blog Post
---
Our Haunted Travels Blog Post
Type: Blog Post
Museum Item#: 1691
Related PANICd#: 1288
Archived/Storage Location: OurHauntedTravels.com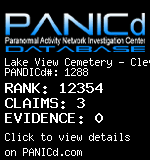 Views: 927
No related videos cataloged.