Visit to the Library of Congress
On July 19, 2017 we traveled to the Library of Congress in Washington, DC to perform research on various historical theories and documents. We also got our Library of Congress research (library) cards.
Read the Full Blog Post
---
Our Haunted Travels Blog Post
Type: Blog Post
Museum Item#: 1631
Related PANICd#: 1872
Archived/Storage Location: OurHauntedTravels.com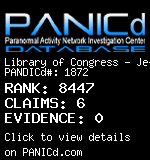 Views: 900
No related videos cataloged.