Collection of Photos From Quincy Hill Park
We have taken many photos while at Quincy Hill Park and have uploaded them to an on-line photo album on Google Photos so that can be shared, viewed, and archived.
View On-line Album
---
Misc. digital photographs
Type: Online Photos
Museum Item#: 1302
Related PANICd#: 2076
Archived/Storage Location: Stored on Google Photos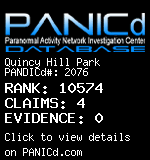 Views: 1,031
No related videos cataloged.